The links on this page are sites and stores to check out for items that are great for any rabbit lover if you are stumped for gift ideas. Some of these sites have also been references on other wiki pages.
Custom accessories for rabbits
Rabbit-themed products
Decals, signs, stickers, prints
Plushies, stuffed animals, and dolls
Apparel and accessories for humans
Miscellaneous knick knacks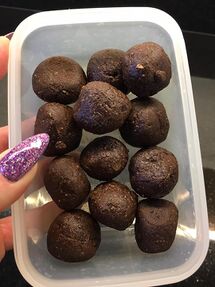 Rabbit portrait commissions
Rabbit treats
This list can also be found at Treats#Online rabbit treat stores
Online rabbit toy stores
Below are reputable online bunny toy stores where you can find many unique rabbit-safe toys that might not be available in your local area. Be aware that these stores may be located in various countries, so check to make sure they ship internationally.
This list can also be found at Toys and Games#Online rabbit toy stores. You can also find more recommendations to direct products at Toys and Games.
Australia
Canada
Germany
Lithuania
United Kingdom
United States
Custom hay racks
This list can also be found at Hay#Dispensing Hay.
Custom litter boxes
This list can also be found at Litter training#Litter boxes.
Ready-made rabbit first aid kit suppliers
This list can also be found at First aid kit for rabbits#Suppliers.
Here are some stickers that you can use to decorate a homemade first aid kit.
Miscellaneous aggregators